Toyota to launch China
Shanghai, September 25 (Gasgoo.com) Earlier this week, a top executive of FAW Toyota said that the joint venture has now included a series of SUV models in its product lineup for the China market and will launch them by mid-2009, reported National Business Daily today.
The Toyota RAV4, a compact crossover SUV model to be built in China, will be put into the Chinese market next March at the earliest. Toyota believes that exploring the SUV market will help expand its growth in China. China's SUV market is growing rapidly and the Toyota RAV4 model will not miss the opportunities, though its development, production and sales as an integrated process will take a long time.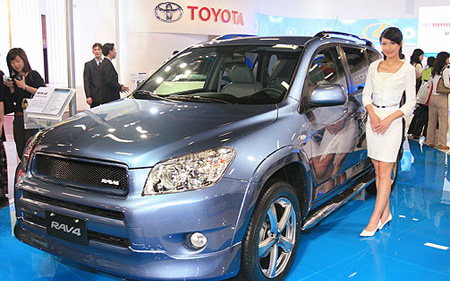 The FAW Toyota executive said the joint venture is speeding up this process. However, Toyota China said that it has not decided yet which of its joint ventures or facilities in China will build the Toyota RAV4 SUV model, though it has not denied that Chinese-made RAV4 SUVs will be launched in the first half of next year.
Industry experts said that Toyota China will not disclose now which venture to make the Toyota RAV4, largely because Guangzhou Toyota will immediately demand for making the Toyota Highlander SUV if Toyota China has confirmed that FAW Toyota will make the Toyota RAV4 SUV.
上一篇:XPENG welcomes new Senior Director of Production Quality
下一篇:福田汽车原厂配件 时代驭菱V1 VQ1 C版 Q版室内遮阳挡 遮阳板